Right now, your competition is training. – (anon)
Our business is Food Safety and we set ourselves very high standards.
In February 2021 we launched our Training Academy in Farnborough. The original objective of the Academy was to provide a platform to develop our own technicians; to plug gaps in their knowledge, constantly refresh existing skills, and foster the sharing of ideas and experiences.
We recognised that extending the scope of the Academy to site engineers would allow us to offer higher level training to customers in a suitable learning environment, away from the distractions of the factory. This approach produces local champions who are effective in reducing the number of trivial callouts.
Delivery of the training by our industry experts combines classroom subject matter content to establish the fundamental understanding of food safety inspection principles and practice, followed by practical sessions to reinforce the application of learning in real world examples.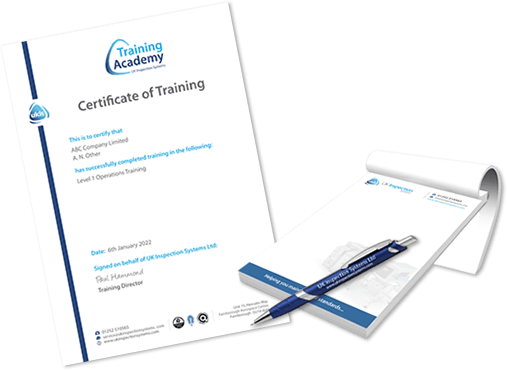 Benefits of the UKIS Training Academy
Off-site learning environment avoids common on-site interruptions
Classroom delivery for open and collaborative learning and discussion
Expert and widely knowledgeable tutor on leading inspection equipment
Up-to-date Code of Practice food safety requirements
Safe environment to apply learning on real production equipment
Inclusive course materials provided
Certified training course for employee records
The Super-user training for the Cintex was very good. From my view, the content of training was relevant and I now have some valuable training materials to refer to.
Engineer, Tilmanstone Salads
Additional Services
UK Inspection Systems Ltd offers a range of additional services to meet with your specific food industry equipment maintenance requirements and all our delivered by our trained and experienced support staff.

Consultancy
If you are looking for advice with keeping up to date with industry developments, or for instance changes to retail codes of practice, or even an incidence of failure to detect foreign body, our expert advisers are on hand to carry out a thorough examination of your in-line inspection equipment and review food safety hazards.

Test Pieces
We stock and supply a wide range of test pieces for Ferrous, Non-Ferrous, Stainless Steel 316, Glass and Ceramic, colour-coded for easy visual Identification, complete with Certificate of Conformity to assist with routine validation and performance testing of industrial metal detection and X-ray inspection equipment.

Service Contracts
We offer a range of Service and Calibration/Validation Contracts to meet your specific food industry equipment maintenance requirements, with all our services delivered on-site by our highly trained and certified engineers to help you achieve optimum production levels, avoiding unwanted breakdowns.
HEAD OFFICE
Unit 15, Hercules Way
Farnborough Aerospace Centre
Farnborough
Hampshire GU14 6UU
Tel: 01252 510565
MANUFACTURING
Units 5 & 6
Elan Court
Norris Way
Rushden
Northants NN10 6BP